Black History Month February 2022: Kafi Dixon
We are highlighting examples of Black excellence every day this February….and beyond! Feel free to send us suggestions!
'I Wanted To Be On Land': A Conversation With Urban Farmer Kafi Dixon
Kafi Dixon is a farmer in Boston. A "backhoe-operating, tractor-driving, Hi-Lo-shifting, plant-seed-in-the-ground farmer," as she puts it.
Dixon founded the Common Good Cooperative, an urban farm in Dorchester where women of color learn about agriculture, entrepreneurship, food sovereignty, and access to green space. Last year, during the pandemic, Dixon's cooperative grew 500 pounds of produce and donated it to local families and senior living facilities.
Dixon and her work are featured in a new documentary "A Reckoning in Boston," which premieres in New England on May 7. WBUR spoke with Dixon about the challenges of being a Black farmer, inequity in Boston and the joy of tinkering. The interview has been edited and condensed for clarity.
Last year during the pandemic, it was like everyone suddenly discovered the value of green space. But you were way ahead of that game; how did you get started in urban farming?
I started this back in 2015, based on what I knew the women in my community were going through — the women I grew up with in Upham's Corner and Mattapan and Dorchester.
All of the women I've grown up with have lost either sons or their children's fathers or brothers. And you know, we understood the violence of the city and just continued to exist in it.
But I knew that there were other spaces that were much more peaceful, and I had seen those places, lived on them, worked on them. I had benefited from healthy space and healthy conversations. And what better way to integrate women into self-designed green space that is for their health — mental and physical — than to found an urban farm?
How do you actually start an urban farm in Boston?
You create a cooperative. You know, you may not have the power and privilege of affluent networks, so one of the ways to address the resources that are missing is to come together as the many.
I just realized that a lot of communities around this country — and oddly here in Boston, too — they were designing for rather than with. And you realize that there is not just an inequality, but there's an inequity in that design.
As much as the city and this region claims to be progressive — or likes to see themselves as progressive — there are still a lot of spaces that are thought of as spaces welcoming to Black women, that by design are not.
Can you give me an example?
Agriculture. Most of those spaces are not reflective of Black women enough for Black women to feel like they're safe space for them to integrate into. Just look at the city of Boston, right? We can look at whether or not this is the first urban farm founded by a woman of color. Right? We can interrogate that question. We can interrogate how many women of color contractors there are. Right? We can interrogate how many women of color, especially African American women, are homeowners in the city. Right? We can look at diversity in upper management in some of the largest fiber 501(c)(3)'s in Boston. We can look at women of color and startup industries in the city of Boston, and look at the diminishing numbers of women who are in the startup field.
The census says that the African American community is the only demographic that's being lost in the city of Boston. That's the federal government saying that there are a people, for whatever reason, that are not existing as a culture in a professed progressive city.
If we are branching out into different spaces, into different sectors, and we don't have a reflection of our community that's in those spaces, then you can perceive that as an unwelcoming space. I'm fighting to be in a space that's no longer integrated for Black women.
Have you always had a knack for farming and growing things?
I wish! I'm a woman with little standard academic education — maybe the eighth grade was the highest grade I completed — which was the reason I became a small business entrepreneur very early. It was because it didn't require a high school diploma. Right? And nobody questioned my adequacy as far as education.
And I decided to go work on other people's farms from upstate New York to Virginia to Mississippi. I was working in a very blue collar job, so I would save up my money and I would leave for a month and go work on farms. And then I went through rural farm training and certification.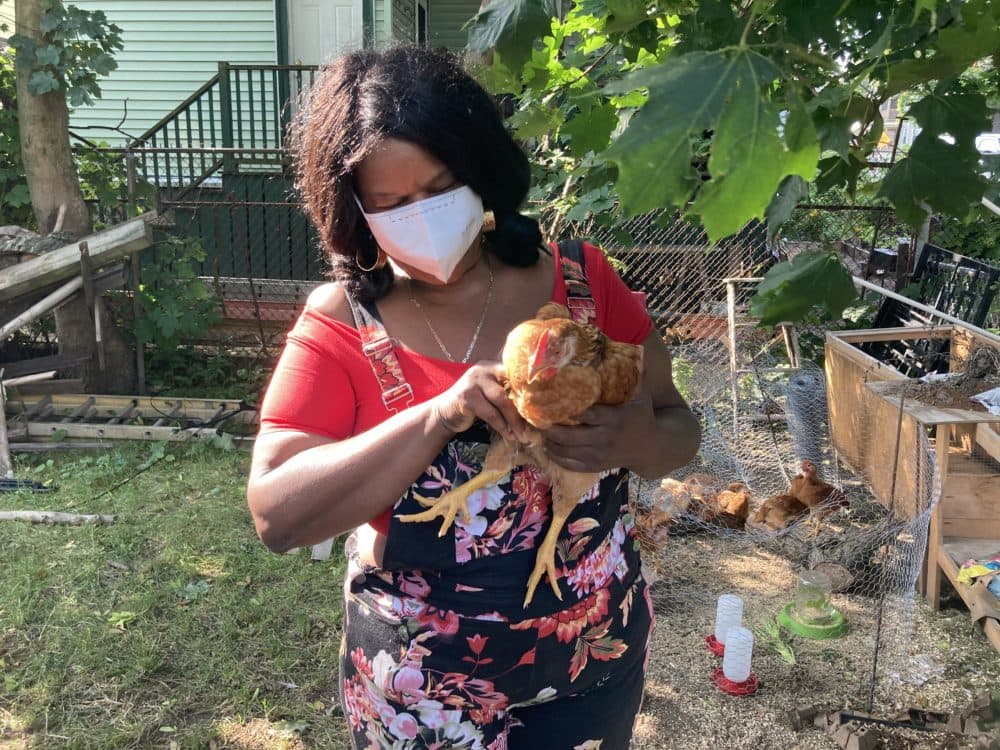 Wait, you saved up your money and took all your vacation time to work on farms? Most people would save up for, you know, a cruise.
Or a really nice car?
Right! So what drove you spend all your free time working on farms?
I had just decided that I wanted to be on land. And I knew how to grow food. I had run produce markets, but I'd always purchased from somebody else. So who am I not to be able to go grow my own food and sell into markets? So this was, in my mind, my retirement plan.
So, yes, it was something I had to save up for because all business enterprises require a little bit of research — I wanted to make sure that as I was thinking about investing in land that it wasn't a fantasy, that it was something that I felt capable to do.
How did you finally make the transition to professional farmer?
There's no such thing as a professional farmer! You can ask any farmer, there's no such thing.
And I say that because there's still this burden that I, as a Black woman, carry around, like, "what experience do you have as a farmer?" And that's used to marginalize people, like, "I don't think she can do it." But then we romanticize the failing farming couple, right? The greenhorns of the world, who are out there on land and are not able to survive. Because without question, it was the space and not any question about their aptitude.
But when Black women or men of color — especially here in the Northeast, which is weird — talk about moving into agricultural enterprises we're put to a test that most people aren't put through when they decide to, you know, quit graduate school at Harvard and to take a loan out and buy land somewhere in New Hampshire.
What do you like best about faming?
One of the things that attracts me to agriculture — actually a lot of farmers don't admit this — but they are low-key tinkerers. Farming and agriculture requires you to be constantly problem-solving. And it's easier to solve the problem of a tomato hornworm than affordable housing, or Section 8. It's easier to purchase a high quality packet of nematodes to deal with certain beetles that attack your crops. It's easier to get your soil tested and to get into the science of weed reduction and land remediation — right? — than it is to look at some of the socially systemic problems that are generational. So, yeah, thinking about agriculture, you know, I'm up for it. It's easier than the other side of this.
https://www.wbur.org/news/2021/05/05/urban-farmer-kafi-dixon-a-reckoning-in-boston